Technical College "Mircea Cristea", Brasov, has been operating since 1931. Under various names (IAR apprenticeship school, Metallurgical school, "Tractor", Industrial High School No.7, Industrial School Group "Tractor", Technical College "Mircea Cristea "), it ensured the skilled workforce primarily for large economic units in Brasov and not only: Aircraft Factory – Ghimbav, SC "Tractorul" S.A., Mechanical Plant et al.
Located near the Tractor Sports Park, the Brasov Central Station and the Olympic Rink, the «Mircea Cristea» Technical College offers specialized training in the fields of mechanics, electro-technics, electronics and telecommunications, architecture, constructions and installations and, starting in 2010, environmental protection completed through certificates of professional competence and diplomas recognized by the European Union.
Our school promotes an educational management oriented to an active social partnership for the implementation of regional and local development strategies.
Our strategic vision aims to develop the Technical College «Mircea Cristea» as an organization whose priority objective is the quality of the didactic process, in parallel with the development of an organizational culture corresponding to a true leader among the providers of initial and continuous professional training.
Between the 3rd and 7th of February 2020, the Technical College "Mircea Cristea" (Romania) carried out a series of activities within the LIVINGRIVER project. The activities consisted of interactive lessons about «Aquatic Ecosystems» held with the students from the 9th grade, and interactive lessons on «Impact of pollution on the environment» and «Excess humidity» with the students from the 10th grade.
Between the 2ndand 6thof March 2020, the students of the 10th class from the Technical College «Mircea Cristea» Brasov have carried out activities of information and preparation of the necessary materials for the practical part of the LIVINGRIVER project.
The students checked the condition of the leaves collected and dried for the project, and prepared the nets that will be installed on the river. The students received information about the places where the nets will be installed and details about the process of assessing the degree of river pollution.
During this period, when schools are closed and students are forced to stay in their homes, many of them have become nostalgic. They remembered the trips and vacations of the past, spent near some rivers.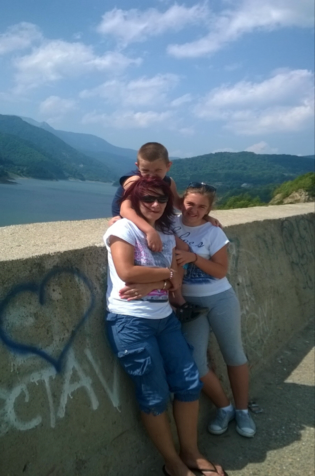 Photo: Serbu Bianca 2015 – Siriu dam (Buzau River) together with the family. 
«Mircea Cristea" Technical College, 10thgrade A
Photo: Serbu Bianca 2018 – Putna Waterfall – with family
«Mircea Cristea" Technical College, 10thgrade A.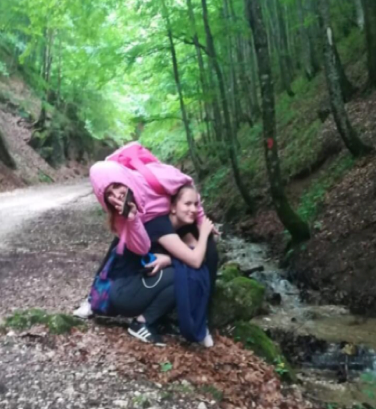 Photo: Serbu Bianca 2015 – Siriu dam (Buzau River) together with the family
«Mircea Cristea" Technical College, 10thgrade A
Photo: Timofte Mara Ioana 2015 – Timis-Darste River – with father having fun in the river
«Mircea Cristea" Technical College, 9thgrade A
 Photo: Timofte Mara Ioana 2015 – Timis-Darste River – with father having fun in the river
«Mircea Cristea" Technical College, 9thgrade A